On the shores of Lake Ontario, and at the mouth of the Humber river, this neighbourhood has some of the best views in all of Toronto. The shoreline of this region is covered with parkland. Humber Bay Shores Park, Humber Bay Park East and a series of other nearby parks all connect the famous Martin Goodman Trail. This trail is well known as one of the best spots in the city for birdwatching, and it's also an amazing place to spend time relaxing by the waterfront.
Along the Humber river, South Humber Park is another great place to unwind and enjoy the outdoors with its wooded areas and open spaces as well as its paved trails for taking a stroll, or getting some exercise by cycling or jogging.
This neighbourhood is conveniently located with easy access to the Gardiner Expressway, making access to anywhere in the Greater Toronto Area simple and easy. This is a rare luxury which makes commuting a breeze.
A great place to settle down, with all of the conveniences and amenities of the city and it's right by the water. It's truly a great place to call home.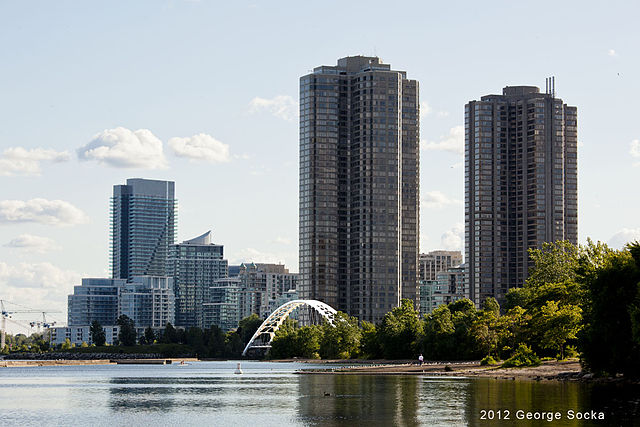 ref. - Wikimedia Commons (George Socka) - https://commons.wikimedia.org/wiki/File:June_2012_Palace_Pier_Towers_and_Humber_River_Arch_Foot_Bridge.jpg