The rural town of Elmvale is located twenty minutes North of Barrie and is part of the Springwater Township. With only a short commute to Barrie, Elmvale is an attractive location for those looking to live within a small community in close proximity to the city.
Elmvale is host to several festivals each year, the biggest of which is the Elmvale Maple Syrup Festival. The Maple Syrup Festival has been celebrated for almost fifty years and attracts thousands of tourists to this small town. Take a ride through the sugar bush, purchase a tasty treat at the sugar shack, or enjoy some delicious pancakes and syrup. The Maple Syrup Festival allows you and your family the opportunity to learn all about maple syrup and how it is produced. The town uses the funds generated by the syrup festival to benefit projects within the community.
If you're interested in animals and nature, you may want to visit the Elmvale Jungle Zoo, which is home to over 300 animals. You'll see lions, tigers, monkey, lemurs, exotic birds and much more! Enjoy a meal from the snack bar in the picnic area, purchase souvenirs at the gift shop, or take a break while the kids play at the playground. The zoo also features a petting area where guests can feed and pet the animals.
Annually in October, you can catch the Elmvale Fall Fair on Thanksgiving weekend. There is so much to see at the fall fair, including a dog show, baby show, and calf show, as well as multiple entertainers, local business, and homemade crafts, baking and canned foods.
The town also hosts the Elmvale Water Festival, which was established to raise awareness of the importance of the quality of water within the area. Elmvale contains plenty of outdoor recreational opportunities with its multiple trails, parks, and large arena.
If you're looking to live in a vibrant small town with plenty of activities and a short commute to Barrie, Elmvale may be the perfect community for you.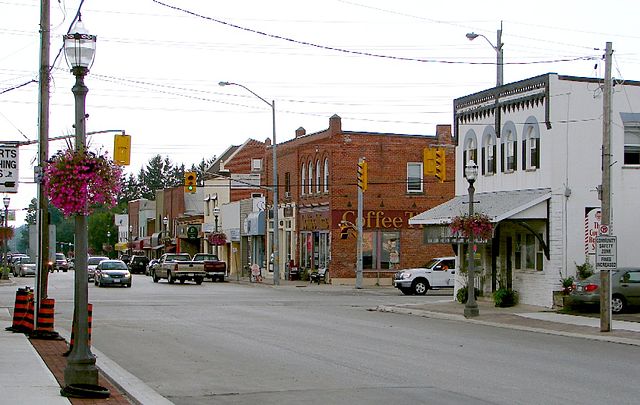 ref. - wikicommons- p199 - https://commons.wikimedia.org/wiki/File:Elmvale_ON.JPG