Brant County, nestled in the heart of the Golden Horseshoe is a charming and picturesque destination that effortlessly combines rich history with modern amenities. This idyllic county, known for its welcoming communities and stunning landscapes, invites you to experience the best of both worlds.
Explore the historic city of Brantford, birthplace of the legendary Alexander Graham Bell, and immerse yourself in its cultural tapestry at the Bell Homestead National Historic Site. Discover the vibrant arts scene at the Glenhyrst Art Gallery, showcasing local and national talents against the backdrop of the picturesque Glenhyrst Gardens.
Nature enthusiasts will be captivated by the Grand River, winding its way through the county, offering opportunities for scenic hikes, canoeing, and birdwatching. The Trans Canada Trail weaves through Brant County, inviting outdoor enthusiasts to traverse its well-maintained paths and discover hidden gems along the way.
Indulge your taste buds with Brant County's culinary delights. From farm-fresh produce to locally crafted beverages, the county's culinary scene is a testament to its agricultural richness.
Whether you seek cultural experiences, outdoor adventures, or a relaxing escape, Brant County beckons with open arms. Come and discover the warmth of its communities, the beauty of its landscapes, and the rich tapestry of its history. Brant County is not just a destination; it's an experience waiting to be embraced.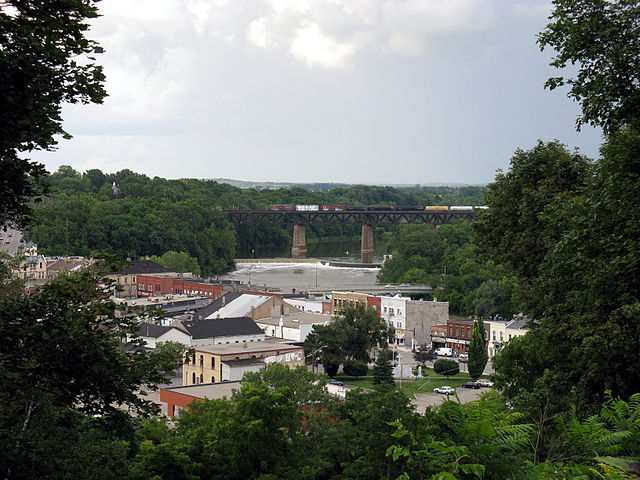 ref. - Wikimedia Commons (Balcer) - https://commons.wikimedia.org/wiki/File:Paris_Ontario_2008_1.JPG