Regent Park is a neighbourhood on the rise.
Ideally positioned close to many of the core amenities and attractions of downtown Toronto, the neighbourhood has begun to attract significant interest with many higher income earners and Toronto elite moving into the area. The recent gentrification of the area is making Regent Park an attractive option for new residents and investors, all interested in taking advantage of a neighbourhood brimming with potential.
With an abundance of local amenities and attractions, Regent Park is a great place to call home.
If you enjoy shopping, look no further. Regent Park's residents have a short walk to Dundas Square and the Eaton Centre, which is considered among the nation's premier shopping centres. If you are more interested in boutique shopping, the neighbouring historic Distillery District is known for its unique shopping opportunities and creative and trendy businesses.
The restaurants and dining found in and around Regent Park provide a delightful combination of variety and quality with samplings of cuisine from around the world. Not only can you find a little bit of everything here, but it is just a short walk to the famous dining options you can find in the nearby Cabbagetown, Corktown and Distillery Districts.
This area is quickly becoming one of the most sought after locations in Toronto. Don't miss out on a fantastic opportunity to become a part of the community.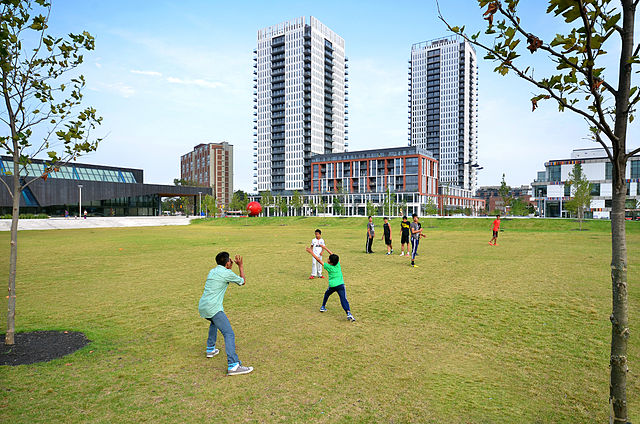 ref. - Wikimedia Commons - DanielsCorp - https://commons.wikimedia.org/wiki/File:6acreRegentPark.jpg