Pickering offers plenty to do and see. There are a variety of parks and trails and conservation areas available for outdoor enthusiasts to enjoy. One such trail is the Pickering Waterfront Trail, which is perfect for hiking, cycling, rollerblading and more. There are also several parks in the area that cater to children and offer playground facilities.
Pickering offers a wide range of recreational activities to choose from such as swimming, tennis, beach volleyball, squash, dance classes, gym memberships and more. There is something for all ages to enjoy.
If enjoy arts and culture, Pickering is the place to be. From live theatre to the museum, there is always an activity to suit your tastes.
The Pickering Museum Village is the largest living history museum in the Durham region. There are 18 buildings that this museum has to offer, including a blacksmith shop, schoolhouse, steam barn and more.
ref. - WikiCommons (Cookmc) - https://commons.wikimedia.org/wiki/File:Nautical_Village_by_Lake_Ontario_and_Frenchman%27s_Bay,_Pickering.jpg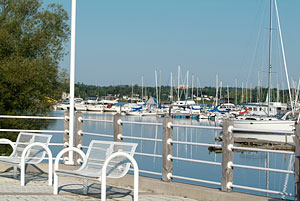 ref. - WikiCommons ( Cookmc ) - https://commons.wikimedia.org/wiki/File:Nautical_Village_Millennium_Square,_Pickering.jpg